Jomsom Muktinath Trek
Trip Overview
Trekking to low-lying areas of Mustang and Annapurna regions is fascinating. Jomsom Muktinath Trek is an ideal package for those trekkers who want to avoid the strenuous walk but still want to enjoy the panoramas of the Himalayas. It will save much of the time as you will be flying from Kathmandu to Pokhara and Jomsom to Pokhara. Trekking around the Lower Mustang through the beautiful villages of Marpha, Kagbeni, Muktinath, Jharkot, and Lupra gives a different taste of adventure. This Jomsom Muktinath Trek is feasible and economical as you will not be paying the expensive permit for trekking in Upper Mustang. Step On Himalaya will assist you to step into the incredible Jomson Muktinath area by all possible means of trekking. Jomsom Muktinath trek is a pious and adventurous walk offering chance to discover the ancient culture and unique wonders of nature.
View More
Detail Itinerary
Day 01: Arrival in Kathmandu 4,593ft/1,400m)

You will land in Tribhuwan International Airport, Kathmandu. You will be welcomed by the representative of Step On Himalaya and then escort you to the hotel in a private transport. After checking in, you can freshen up, take rest and then walk around if you like. Stay overnight in Kathmandu.
Accommodation:
Hotel
Meal:
N/A
Day 02: Kathmandu valley: sightseeing tour and trek preparation 4,593ft/1,400m)

A day Tour around Kathmandu valley in different cultural and historical heritage sites such as Boudhanath Stupa, Swayambhunath stupa, Pashupatinath temple and Durbar Square. Boudhanath stupa and Swayambhunath stupa are dedicated to Lord Gautam Budhha. Pashupatinath temple is a holy Hindu temple situated at the bank of Bagmati river. Durbar Square reflects the historical importance of Kathmandu valley in old times. Stay overnight in Kathmandu.
Accommodation:
Hotel
Meal:
Breakfast
Day 03: Morning flight to Pokhara (2,789ft/827m), then trek to Tikhedhunga (4921ft/1500m)

An early morning breakfast and then a flight to Pokhara enjoying the majestic views of the unique landscapes and the gigantic Himalayas. Upon arrival at the Pokhara airport, you will drive for about 1 hour 30 minutes to Nayapul and then here begins the trekking. You will walk towards Bhurundi river. After crossing it, you will climb up passing through the dense forests and the edges of the cliffs. Then, you will cross a suspension bridge built over the Modi river and arrive at Tikhedhunga. Overnight in Tikhedhunga.
Accommodation:
Tea House
Meal:
Breakfast, Lunch, Dinner
Day 04: Trek from Tikhedhunda to Ghorepani (9271ft/2826m)

After having breakfast, you will start descending towards the bridge over Bhurundi Khola and then cross the bridge. Then you will gradually ascend towards Ghorepani. Continuing the walk upwards passing through Ulleri, you will finally arrive at Ghorepani meaning "horse-water" in Nepali. It is believed that Ghorepani was the campsite for horse traders. Overnight in Ghorepani.
Accommodation:
Tea House
Meal:
Breakfast, Lunch, Dinner
Day 05: Trek from Ghorepani to Tatopani (3,937ft/1,200m)

You will trek from Ghorepani enjoying the mesmerizing views of Nilgiri Himal and Annapurna South. You will descend to Sikha village and then to Ghar Khola village. There is a suspension bridge on the way to Tatopani. You can enjoy dipping into the hot spring water and soothe the body. Overnight in Tatopani.
Accommodation:
Tea House
Meal:
Breakfast, Lunch, Dinner
Day 06: Tatopani to Ghasa (2,110m/6,922ft): 5-6 hours

You will begin the trek from Tatopani to Ghasa. After breakfast, you will slowly climb up following the trail of Kali Gandaki river. You will cross a suspension bridge and continue the walk passing through Rupse Chhahara, a gorgeous waterfall. Walking ahead for about 5 – 6 hours in the low-lying regions of Kali Gandaki valley, you will arrive at Ghasa. It is a popular village for bird-watchers. Overnight in Ghasa.
Accommodation:
Tea House
Meal:
Breakfast, Lunch, Dinner
Day 07: Trek from Ghasa to Marpha (8,760ft/2,670m)

From Ghasa, you will climb up on a steep path passing through a forest towards the Lete Khola. Crossing this Lete Khola, you will arrive at the Lete village. Continuing the trek on the east of the river, you will reach Larjung village. There are many apple orchards and vegetable farmlands on the way. After walking for about 5 – 6 hours, you will arrive at Marpha, which is popular for its delicious apples. Overnight in Marpha.
Accommodation:
Tea House
Meal:
Breakfast, Lunch, Dinner
Day 08: Trek from Marpha to Kagbeni (9200ft/2804m)

Todays' destination is Kagbeni. After enjoying the breakfast, you will trek on a trail towards a valley. Gradually ascending on a ridge, you will reach Jomsom village. Kagbeni lies towards the north from Jomson. Following the Trail of Kali Gandaki River, the deepest gorge in the world, you will pass through the Eklebhatti village. Continuing the walk, you will arrive at Kagbeni enjoying the amazing views of Dhaulagiri, Tukuche and Nilgiri peaks. Overnight in Kagbeni.
Accommodation:
Tea House
Meal:
Breakfast, Lunch, Dinner
Day 09: Trek from Kagbeni to Muktinath (12467ft/3800m)

Trek from Kagbeni to Muktinath will be of 5 – 6 hours. Showing the special permit at the check post, you will now walk upwards the bank of Kali Gandaki river. On the way, the striking views of the attractive places can be seen. From Kagbeni, you will walk on the direct trail leading towards Khingar at an elevation of 3200m. Passing through a desert countryside until Jarkot village, the ascent will take us to the Muktinath. Overnight in Muktinath.
Accommodation:
Tea House
Meal:
Breakfast, Lunch, Dinner
Day 10: Trek from Muktinath to Jomsom (8999ft/2743m)

Muktinath is a holy pilgrimage for the Hindu and the Buddhist. Nepal is known for its religious tolerance. You will visit the main temple in the early morning and wander around the nearby places. There are the enchanting waterspouts, just before the Buddhist monastery. After passing some time here, you will return to Jomson following the earlier trail. Overnight in Jomsom.
Accommodation:
Tea House
Meal:
Breakfast, Lunch, Dinner
Day 11: Flight from Jomsom to Pokhara. (2,789ft/827m)

An early morning breakfast and then a flight to Pokhara from Jomsom. You will fly over passing through a gorge just between the mountains of Annapurna and Dhaulagiri ranges. After arriving at Pokhara, you will be taken to the hotel. Now you can either rest or do boating or roam around the city. You will find many visitors walking by the Lakeside during the evening time. Overnight in Pokhara.
Accommodation:
Hotel
Meal:
Breakfast
Day 12: Drive from Pokhara to Kathmandu

Today you will leave Pokhara on a tourist bus early morning, after having breakfast. Enjoying the journey along the river banks, you can see eye-catching terraces, countryside villages on the hills and lush vegetation. After reaching Kathmandu, check-in the hotel and then plan accordingly for the rest of the day. Overnight in Kathmandu.
Accommodation:
Hotel
Meal:
Breakfast
Day 13: Final departure

Final day in Nepal – end of the Jomsom Muktinath trek. You will be escorted to the airport in a private transport by the representative of Step On Himalaya. You should reach the airport atleast 3 hours before the time of the scheduled flight. Hoping to welcome you again in Nepal, wish you a safe trip back to home.
Accommodation:
N/A
Meal:
Breakfast
---
Is the proposed itinerary suitable for you?
If you are looking for a custom itinerary, please feel free to reach out to our team of professionals at any time.
Trip Map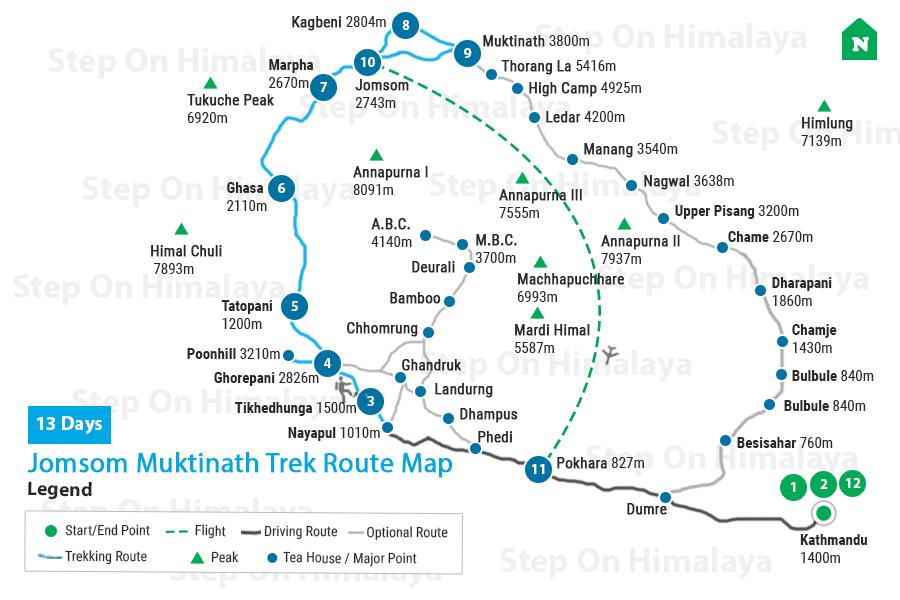 Cost Details
What is included?
Accommodation in 3-star hotels of Kathmandu and Pokhara with Breakfast
Accommodation in teahouses during the trek
All 3 meals (Breakfast, Lunch, and Dinner) during the trek
Airport transfers in private vehicle
All ground transportation in private vehicle
Domestic flight fares from Kathmandu to Pokhara and Jomsom to Pokhara
Guided Sightseeing tour in Kathmandu in private vehicle
Entrance fees, permits, TIMS and necessary documentation
All the local and the government taxes
Trek Leader: Government licensed, experienced, English speaking
Porter
The inclusion of Salary, Insurance, Food, Accommodation, domestic flight fare of the staffs
First aid medical kit
What is not included?
Entry visa fee to Nepal
International flight fares
Medical and Travel Insurance
Extended stay in Kathmandu or Pokhara due to any reason other than the Itinerary
Meals other than breakfast in Kathmandu and Pokhara
Excess baggage charge(s)
Personal expenditures like Internet, Phone calls, Bar bills, Beverages, Extra porter, Hot shower, Laundry, etc.
Trip Info
The Trekking Group Size
1 trekking leader, 1 assistant leader if there are more than 6 trekkers in a group
2 trekkers:1 porter:
The optimum number of members: 12 – 14
Arrangements of larger groups can be done accordingly
Arrangement for the Single traveler can be done accordingly with a larger group.
Accommodations
3 – 5-star hotels in Kathmandu and Pokhara depending upon your choice and budget
All the accommodations are Twin-Sharing basis with attached bathrooms and toilet facilities in the cities
In some Teahouses, common bathroom and toilet facilities during the trek
A single room can be available with additional cost
Meals
In cities, any International cuisines are available.
Nepalese traditional food items
In mountains, all 3 meals are available like Pizzas, noodles, pasta, sandwiches, bread, etc.
Safety
The foremost priority of Step On Himalaya towards our valued customer.
Kindly communicate with your trekking leader for any problems
Follow his directions during the Emergency Evacuation either due to sickness or any natural calamities or mishaps
FAQ
A trekker has to walk a minimum of 5 to 8 hours daily.
As a Himalayan trekking adventure, you will trek through mountainous landscape. Walking up and down the hill during the trek is quite common characteristic of trekking in Nepal.
Yes, definitely. Elevation change is an important part of the trek. As there is a lot of walking up and down the hill, there is an elevation change every day. However, the range of change differs from day to day. It is mostly an uphill trek up to the destination and downhill on the way back. However, the trail winds up and down the mountains throughout the trek regardless of the elevation difference for the day.
Nepal offers trekking adventures throughout the year. However, the autumn and springs seasons are the best seasons to go trekking in Nepal. The months of September-November and March to May offer the best weather and atmosphere for trekking. Althgouh high altitude trekking is quite difficult and impossible in winter season, low altitude trekking can be done throughout the year.
Although age is not a bar to go on a trekking adventure in Nepal, you certainly need to consider a few factors before going on a trek. The basic requirement for trekking in Nepal is good fitness level regardless of your age. Since the activity involves a lot of walking up and down the mountains, you need to be fit enough to indulge in the activity for multiple days.
We highly recommend taking a guide with you when you go on the trekking adventure. Even if the trail is well-trodden and has many trekkers trekking, you need to have a guide for many reasons. First of all, a guide is not only the person to show you the trail. A trekking guide has a huge responsibilty of completing the adventure ensuring the safety of trekkers in the strange mountains. Moreover, the guide will also make your trip more than an adventure. It becomes a lifetime experience.
The mountains now have basic teahouse and lodge accommodations for trekkers. You can spend overnight in the warmth of guesthouses called teahouses during the trek unlike tented camps in the past.
The most common food during the trek is Dal Bhat. However, you can choose other food items from the menu. The food items differ from region to region.
You need to prepare your stuff wisely for the trek. The backpack you get ready for the trek should have all essentials and avoid any unnecessary stuff in there. Check this equipment list for a better understanding of what to pack for the trek.
Yes, permits are necessary for the trek. Since, you are going on our package, we take care of everything. You do not need to worry about arranging the permit for yourself.
When you are on our trek package, we provide porters to carry your backpack in the mountains. A porter carries the backpacks of two trekkers.You suggest you to keep your backpack around 10 kg.
Yes, you will need some cash in the mountain. Although your major meals are included in our package, you may need money for drinks, shower, souvenir shopping, wifi, device charging, and tips to guide and porters at the end of the trip.
We will brief you on how much to take on the first day of the trip when we meet in Kathmandu.
No, there is no acclimatization break during the trek. Although it is a Himalayan trekking trip, it does not require you to take any extra days for acclimatization. You can adjust in the climate as you trek to the higher elevation.
We focus on small group adventures to ensure that every one is well-taken care of and they enjoy the trek. We keep our group to the maximum limit of 16 people.
In that unfortunate case, we will make sure that you are well taken care of. If you cannot continue your journey further towards the destination and want to rest or return back, we will arrange a porter to be with you and take care of you while rest of the group members continue the trek.
Review