Tamang Heritage Trek
Trip Overview
Tamang Heritage Trekking Trail
Tamang Heritage Trekking Trail by the name itself is very off the beaten trekking trail in Nepal. Only a few trekkers have opted to this trail till now and have been lucky to explore the mesmerizing beauty of this trekking region. Tamang Heritage Trekking Trail has been unexplored for ages. That is the reason why it still has pristine natural beauty. The attractive views of snow-capped peaks like Langtang Lirung, Kerung Himal, Ganesh Himal, Manaslu, Sanjen Himal, Jugal Himal, etc. are simply unforgettable. During the trekking, you can enjoy the untouched civilization and culture. As you wander around the dainty villages, you will be able to experience the simplicity and friendliness of the local Tamang people. The Tamang Heritage Trekking Trail will not only be specifically for trekking but also a chance to explore the uniqueness of the Tamang community.
View More
Detail Itinerary
Day 01: Drive to Syabrubesi (1440m/4725ft)
Day 02: Trek from Syabrubesi to Goljung
Day 03: Trek from Goljung to Gatlang (2440m/8005ft)
Day 04: Trek from Gatlang to Tatopani (2600m/8530ft)
Day 05: Trek from Tatopani to Thuman (2240m/7350ft)
Day 06: Trek from Thuman to Briddim (2230m/7315ft)
Day 07: Trek from Briddim to Lama Hotel (2479m/8103ft)
Day 08: Trek to Langtang village(3500m/11482ft) from Lama Hotel
Day 09: Trek to Kyanjin Gompa (3500m/11482ft) from Langtang village
Day 10: Trek back to Lama Hotel (2479m/8103ft) from Kyanjin Gompa
Day 11: Trek back to Syabrubesi from Lama Hotel
Day 12: Drive back to Kathmandu
Trip Map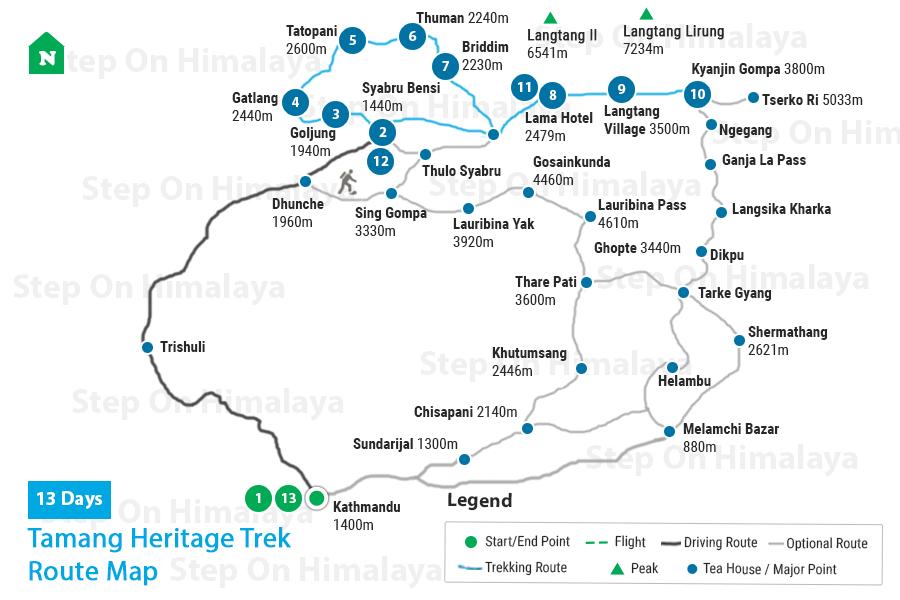 FAQ
A trekker has to walk a minimum of 5 to 8 hours daily.
As a Himalayan trekking adventure, you will trek through mountainous landscape. Walking up and down the hill during the trek is quite common characteristic of trekking in Nepal.
Nepal offers trekking adventures throughout the year. However, the autumn and springs seasons are the best seasons to go trekking in Nepal. The months of September-November and March to May offer the best weather and atmosphere for trekking. Althgouh high altitude trekking is quite difficult and impossible in winter season, low altitude trekking can be done throughout the year.
Although age is not a bar to go on a trekking adventure in Nepal, you certainly need to consider a few factors before going on a trek. The basic requirement for trekking in Nepal is good fitness level regardless of your age. Since the activity involves a lot of walking up and down the mountains, you need to be fit enough to indulge in the activity for multiple days.
We highly recommend taking a guide with you when you go on the trekking adventure. Even if the trail is well-trodden and has many trekkers trekking, you need to have a guide for many reasons. First of all, a guide is not only the person to show you the trail. A trekking guide has a huge responsibilty of completing the adventure ensuring the safety of trekkers in the strange mountains. Moreover, the guide will also make your trip more than an adventure. It becomes a lifetime experience.
The mountains now have basic teahouse and lodge accommodations for trekkers. You can spend overnight in the warmth of guesthouses called teahouses during the trek unlike tented camps in the past.
The most common food during the trek is Dal Bhat. However, you can choose other food items from the menu. The food items differ from region to region.
You need to prepare your stuff wisely for the trek. The backpack you get ready for the trek should have all essentials and avoid any unnecessary stuff in there. Check this equipment list for a better understanding of what to pack for the trek.
Yes, permits are necessary for the trek. Since, you are going on our package, we take care of everything. You do not need to worry about arranging the permit for yourself.
When you are on our trek package, we provide porters to carry your backpack in the mountains. A porter carries the backpacks of two trekkers.You suggest you to keep your backpack around 10 kg.
Yes, you will need some cash in the mountain. Although your major meals are included in our package, you may need money for drinks, shower, souvenir shopping, wifi, device charging, and tips to guide and porters at the end of the trip.
We will brief you on how much to take on the first day of the trip when we meet in Kathmandu.
No, there is no acclimatization break during the trek. Although it is a Himalayan trekking trip, it does not require you to take any extra days for acclimatization. You can adjust in the climate as you trek to the higher elevation.
We focus on small group adventures to ensure that every one is well-taken care of and they enjoy the trek. We keep our group to the maximum limit of 16 people.
In that unfortunate case, we will make sure that you are well taken care of. If you cannot continue your journey further towards the destination and want to rest or return back, we will arrange a porter to be with you and take care of you while rest of the group members continue the trek.
Review