Upper Mustang Trek
Trip Overview
UPPER MUSTANG TREK
Upper Mustang Trek is the heaven of the world which is being considered as the hidden world of the Buddhist kingdom of Mustang. It is also known as "Lo" which used to be the part of the Tibet. That's why; the culture and traditions are very much similar to Tibet. This region was forbidden for trekking and it was officially opened only about 15 years back in 1992. Even though the trekking is open for trekkers, there is some part of Upper Mustang which is still restricted for trekking. The trekkers require special trekking permit and should accompany an officer who is appointed by the government. Upper Mustang trek lies in the rain shadow, mainly in the northern part of Annapurna and Dhaulagiri ranges. This region is completely protected from the monsoon downfall. It is better to travel here during the monsoon season as the local people will be busy with their work.
View More
Detail Itinerary
Day 01: Arrival at Tribhuwan International Airport, Kathmandu 4,593ft/1,400m)

You will arrive at Tribhuwan International Airport and then a representative from Step On Himalaya will be waiting for welcoming you and will drop you at the hotel. You can rest and relax in the hotel. In the evening, there will be a welcome dinner arranged by Step On Himalaya. Overnight in Kathmandu.
Accommodation:
Hotel
Meal:
Dinner
Day 02: Sightseeing guided tour around Kathmandu and Preparation of Trek 4,593ft/1,400m)

After having breakfast, we will be ready for the tour around the Kathmandu valley for sightseeing of mainly the UNESCO listed World Heritage Sites which are Pashupatinath temple, Swayambhunath Stupa, Boudhanath Stupa and Kathmandu Durbar Square. The tour will be guided by one of our experienced, English speaking Tourist Guide.
Accommodation:
Hotel
Meal:
n/a
Day 03: Drive to Pokhara (2,789ft/827m) from Kathmandu via Tourist bus

An early morning drive from Kathmandu to Pokhara via Tourist bus. But if you want, you can reach Pokhara by flight also which will take around 30 – 35 minutes from Kathmandu to Pokhara. We can go for boating in Fewa Lake or roam around the city or just rest in the hotel. Overnight at Pokhara with dinner included.
Accommodation:
Hotel
Meal:
Dinner
Day 04: Flight to Jomsom (8999ft/2743m) from Pokhara and then Trek to Kagbeni (9200ft/2804m): 3 – 4 hours

We will have an early morning flight from Pokhara to Jomson. After reaching Jomson, we will walk towardsKagbeni. Jomson is mainly famous for the apples. We will walk through Eklibatti village which is situated at the bank of 2 rivers. There are flat-roofed houses and an old Fortress. Overnight at Kagbeni. 3 meals included
Accommodation:
Tea House
Meal:
Breakfast, Lunch, Dinner
Day 05: Trek from Kagbeni to Chele (10006ft/3050m): 5-6 hours

We will walk for about 5 – 6 hours from Kagbeni to reach Chele. We will have to get the permits checked and start our trek following the Trail of Kali Gandaki River. We will then ascend on the hill and reach the Tangbe village. There are usually strong winds in this region. We will pass through the buckwheat and barley fields, narrow alleyways, apple orchards and small white-washed houses. Continuing the trail, we will cross a river and a village and finally reach Chele village. Overnight here with 3 meals included.
Accommodation:
Tea House
Meal:
Breakfast, Lunch, Dinner
Day 06: Trek from Chele to Syanbochen (11400ft/3475m): 6-7 hours

From Chele onwards, the trek will be little hard as compared to earlier walks. It's because we will be passing through Taklam La pass and Dajori La pass. We can enjoy the scenic views of Tilicho, Damodar danda, Yakawa Kang and Ramchung Cave. We will reach Samar village after descending further. We will still keep on walking through the village and reach Syanbochen after descending towards a steep trail. Overnight at Syanbochen with 3 meals included.
Accommodation:
Tea House
Meal:
Breakfast, Lunch, Dinner
Day 07: Trek from Syanbochen to Ghami (11548ft/3520m): 5-6 hours

Today's destination is Ghami. We will climb up to the Yamda La pass at an elevation of 3,850m. On the way, we will pass by teahouses, chortens with colorful prayer flags, gorgeous hamlets with amazing barley fileds and dense forests. We will then reach Nyi Pass and after descending, we will reach Ghami. Overnight stay in Ghami with 3 meals included.
Accommodation:
Tea House
Meal:
Breakfast, Lunch, Dinner
Day 08: Trek to Ghami to Tsarang (11482ft/3500m): 5-6 hours

We will begin our trek from Ghami descending through the slippery trail. After walking for some hours, we will cross a suspension bridge over Ghami river and continue the trail ascends. On the way, there are Mani walls. Then we will cross the Tsarang La Pass and reach the Tsarang village that lies above the Charang chu canyon. There is a huge fortress and at its eastern part, there is a red Gomba. Overnight stay at Tsarang with 3 meals included.
Accommodation:
Tea House
Meal:
Breakfast, Lunch, Dinner
Day 09: Trek to Tsarang to Lo-Manthang (12140ft/3700m): 3-4 hours

After having breakfast, from Tsarang, we will descend towards the canyon. We will then cross a river and begin the uphill trek to reach Lo La pass at an elevation of 3950m. We can view the gorgeous hamlet of Lo Manthang. We will descend to the Lo-Manthang village. The views of the surrounding Himalayas like Tilicho, Annapurna I, Nilgiri, Bhrikuti peak along with Damodar Kunda is awesome. Overnight stay at Lo-Manthang village with 3 meals included.
Accommodation:
Tea House
Meal:
Breakfast, Lunch, Dinner
Day 10: Acclimatization and Rest day at Lo Manthang (12140ft/3700m)

Another day of the trek especially for Acclimatization at Lo-Manthang. Acclimatization is an essential step for planning the further trekking accordingly. This will not only let us know the weather but also prevents us from being ill of acute mountain sickness. The day will be passed easily roaming around the Lo-Manthang village, exploring the nearby gompas which were restored by experts. The 3 main gompas are Jhampa, Chhoeda and Thupchen. We can hike to Tingkhar village located at the north-western part of Lo-Manthang. Another night stay at Lo-Manthang with 3 meals included.
Accommodation:
Tea House
Meal:
Breakfast, Lunch, Dinner
Day 11: Trek from Lo-Mangthang to Drakmar (12140ft/3700m): 6-7 hours

Our destination is to reach Drakmar today. We will trek from Lo-Manthang after having breakfast. The trail will pass through the Gaykar village. Here is famous Ghar Gompa which is supposed to be a century old. It is believed by the locals that any wishes made here get fulfilled. We will continue walking until we reach Drakmar. Overnight stay with 3 meals included.
Accommodation:
Tea House
Meal:
Breakfast, Lunch, Dinner
Day 12: Trek from Drakmar to Ghiling (11515ft/3515m): 5-6 hours

It is very windy during the daytime so we will start the trek early morning. We will then walk through the dry plateau and the fields. Walking through the trail, we will reach Ghiling which is usually dry. It will be a little difficult trek as the winds will blow onto our faces while walking but still enjoyable as we can see the mountains of Dhaulagiri and Nilgiri. We can either rest or roam around Ghiling. Overnight stay with 3 meals included.
Accommodation:
Tea House
Meal:
Breakfast, Lunch, Dinner
Day 13: Trek from Ghiling to Chhuksang (9515ft/2900m): 5-6 hours

On this day, we will reach Chhuksang after walking for about 5 – 6 hours from Ghiling. We will pass small beautiful villages and can view the majestic Himalayas en route. Overnight stay at Chhuksang with 3 meals included.
Accommodation:
Tea House
Meal:
Breakfast, Lunch, Dinner
Day 14: Trek from Chhuksang to Jomsom (8999ft/2743m): 6-7 hours

From Chhuksang, we will walk and join the trails of the famous Annapurna circuit. We will stop by at Kagbeni for lunch and then again continue our trekking until we reach Jomson to stay overnight with 3 meals included.
Accommodation:
Tea House
Meal:
Breakfast, Lunch, Dinner
Day 15: Flight from Jomson to Pokhara

An early morning flight from Jomson to Pokhara. After reaching Pokhara, you can wander around the city or rest at the hotel.
Accommodation:
Hotel
Meal:
Breakfast
Day 16: Drive from Pokhara to Kathmandu via Tourist bus

We will travel for about 5 – 6 hours to Kathmandu from Pokhara via Tourist bus. But still, there is an alternative of flight from Pokhara to Kathmandu. Farewell dinner in the evening. Overnight stay in Kathmandu.
Accommodation:
Hotel
Meal:
Breakfast, Dinner
Day 17: Final departure from Nepal

On the last day, the representative of Step On Himalaya will escort you to the Tribhuvan International Airport at least 3 hours prior to the scheduled time. Breakfast included.
Accommodation:
n/a
Meal:
Breakfast
Cost Details
What is included?
Ground transportation (Pick up and drop services from and to the Airport)
Accommodation arrangement in 3-star hotel during Kathmandu and Pokhara stay with breakfast
Accommodation in Tea houses/lodges during the trekking period
Kathmandu Valley sightseeing tour guided by an English speaking, experienced Tour guide
Domestic flights from Kathmandu to Lukla and Lukla to Kathmandu
Entrance fees during the Sightseeing tour
All the government and local taxes, TIMS permit and other trekking permits
Salary, Medical and Travel Insurance, Food and Accommodation of the staff
Porter facility (1 porter: 2 trekkers)
All 3 meals during the trekking period (Breakfast, Lunch and Dinner)
What is not included?
Visa fee
International flight fare
Travel and Medical Insurance
Extra charges for emergency evacuation or rescues
Accommodation and Food in Kathmandu and Pokhara other than the trekking days
Personal expenses (bar bills, battery recharge, beverages, phone calls, internet, laundry, extra porters, hot shower, etc.)
Trip Map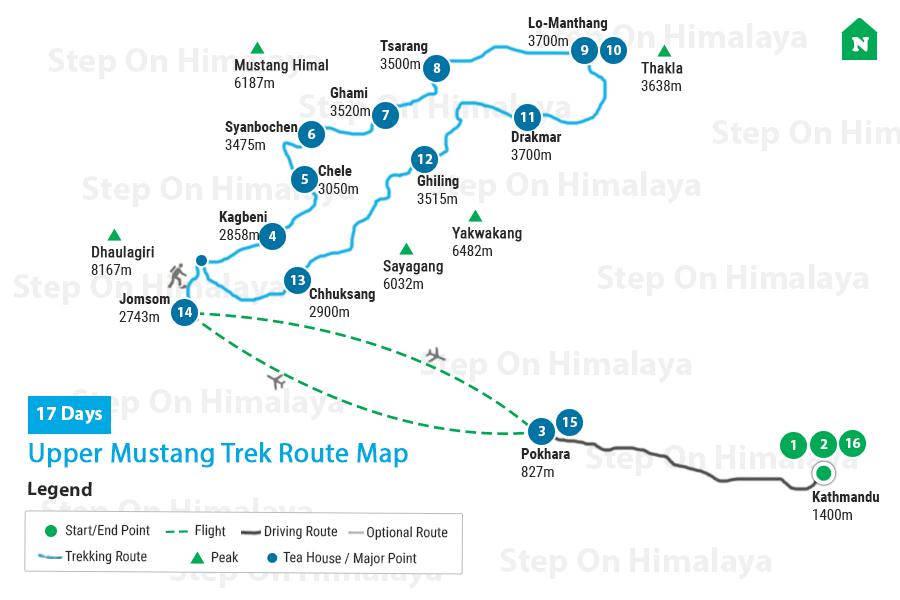 FAQ
A trekker has to walk a minimum of 5 to 8 hours daily.
As a Himalayan trekking adventure, you will trek through mountainous landscape. Walking up and down the hill during the trek is quite common characteristic of trekking in Nepal.
Yes, definitely. Elevation change is an important part of the trek. As there is a lot of walking up and down the hill, there is an elevation change every day. However, the range of change differs from day to day. It is mostly an uphill trek up to the destination and downhill on the way back. However, the trail winds up and down the mountains throughout the trek regardless of the elevation difference for the day.
Nepal offers trekking adventures throughout the year. However, the autumn and springs seasons are the best seasons to go trekking in Nepal. The months of September-November and March to May offer the best weather and atmosphere for trekking. Althgouh high altitude trekking is quite difficult and impossible in winter season, low altitude trekking can be done throughout the year.
Although age is not a bar to go on a trekking adventure in Nepal, you certainly need to consider a few factors before going on a trek. The basic requirement for trekking in Nepal is good fitness level regardless of your age. Since the activity involves a lot of walking up and down the mountains, you need to be fit enough to indulge in the activity for multiple days.
We highly recommend taking a guide with you when you go on the trekking adventure. Even if the trail is well-trodden and has many trekkers trekking, you need to have a guide for many reasons. First of all, a guide is not only the person to show you the trail. A trekking guide has a huge responsibilty of completing the adventure ensuring the safety of trekkers in the strange mountains. Moreover, the guide will also make your trip more than an adventure. It becomes a lifetime experience.
The mountains now have basic teahouse and lodge accommodations for trekkers. You can spend overnight in the warmth of guesthouses called teahouses during the trek unlike tented camps in the past.
The most common food during the trek is Dal Bhat. However, you can choose other food items from the menu. The food items differ from region to region.
You need to prepare your stuff wisely for the trek. The backpack you get ready for the trek should have all essentials and avoid any unnecessary stuff in there. Check this equipment list for a better understanding of what to pack for the trek.
As a high altitude trekking adventure, the trek always has a risk of getting altitude sickness. While it is not predictable who, where, and how they will get it, we all need to be well-aware and prepared for the unwanted. As we gain altitude during the trek, we should be more careful on our pace of walk, food, water, rest, and recovery. Being careful and taking it easy in the mountains can reduce the chance of getting altitude sickness.
Yes, permits are necessary for the trek. Since, you are going on our package, we take care of everything. You do not need to worry about arranging the permit for yourself.
When you are on our trek package, we provide porters to carry your backpack in the mountains. A porter carries the backpacks of two trekkers.You suggest you to keep your backpack around 10 kg.
Yes, you will need some cash in the mountain. Although your major meals are included in our package, you may need money for drinks, shower, souvenir shopping, wifi, device charging, and tips to guide and porters at the end of the trip.
We will brief you on how much to take on the first day of the trip when we meet in Kathmandu.
No, there is no acclimatization break during the trek. Although it is a Himalayan trekking trip, it does not require you to take any extra days for acclimatization. You can adjust in the climate as you trek to the higher elevation.
We focus on small group adventures to ensure that every one is well-taken care of and they enjoy the trek. We keep our group to the maximum limit of 16 people.
In that unfortunate case, we will make sure that you are well taken care of. If you cannot continue your journey further towards the destination and want to rest or return back, we will arrange a porter to be with you and take care of you while rest of the group members continue the trek.
Review